About GFL
We are an independent geo-scientific research, consultancy and popular science company with established offices and permanently instrumented geomorphologic observation and monitoring field test sites in Norway (Trondheim – Selbu) and Spain (Alicante – Calpe). Our core competence is in the areas of contemporary geomorphologic earth surface processes, sedimentary source-to-sink fluxes and correlations, soil erosion, hazardous earth surface processes, and landscape development and understanding under ongoing or accelerated climate change and increasing anthropogenic impacts and pressures. In addition to our research activities we offer a range of professional services related to scientific research projects, training, consultancy, scientific and popular scientific publishing/outreach and nature- and detail photography.

Om GFL
Vi er et uavhengig geovitenskapelig forsknings-, konsulent-, og populærvitenskapelig firma. Vår vitenskapelige kjernekompetanse er i fagfeltet landskapsutvikling og kontemporære geomorfologiske prosesser ved Jordas overflate, spesielt skred prosesser, vannkvalitet og sedimenttransport i elver, jorderosjon, og forståelse av effekter av pågående eller akselererte klimaendringene og menneskelig aktivitet på naturlige prosesser og naturlandskapene. Vi tilbyr en rekke profesjonelle tjenester knyttet til forskningsprosjekter, undervisning, konsulentoppdragene, vitenskapelige og populærvitenskapelige publikasjoner/presentasjoner og natur- og detalj fotografi.

Sobre GFL
GFL es una empresa independiente e internacional de geociencias que ofrece servicios profesionales en el campo de la investigación, consultoría y geo-turismo. Nuestra actividad iniciada en Marzo de 2018, se desarrolla sobre la base de la observación geomorfológica permanentemente e instrumentada y el monitoreo de sitios de prueba en Noruega (Trondheim – Selbu) y España (Alicante – Calpe). Nuestro campo de acción es la Geomorfología actual, los flujos sedimentarios (fuentes y sumideros), la erosión del suelo, los riesgos geológicos y el desarollo del paisaje en el actual escenario de cambio climático acelerado con el creciente impacto de las presiones antropogénicas sobre el medio ambiente.
GFL Flyer in Norwegian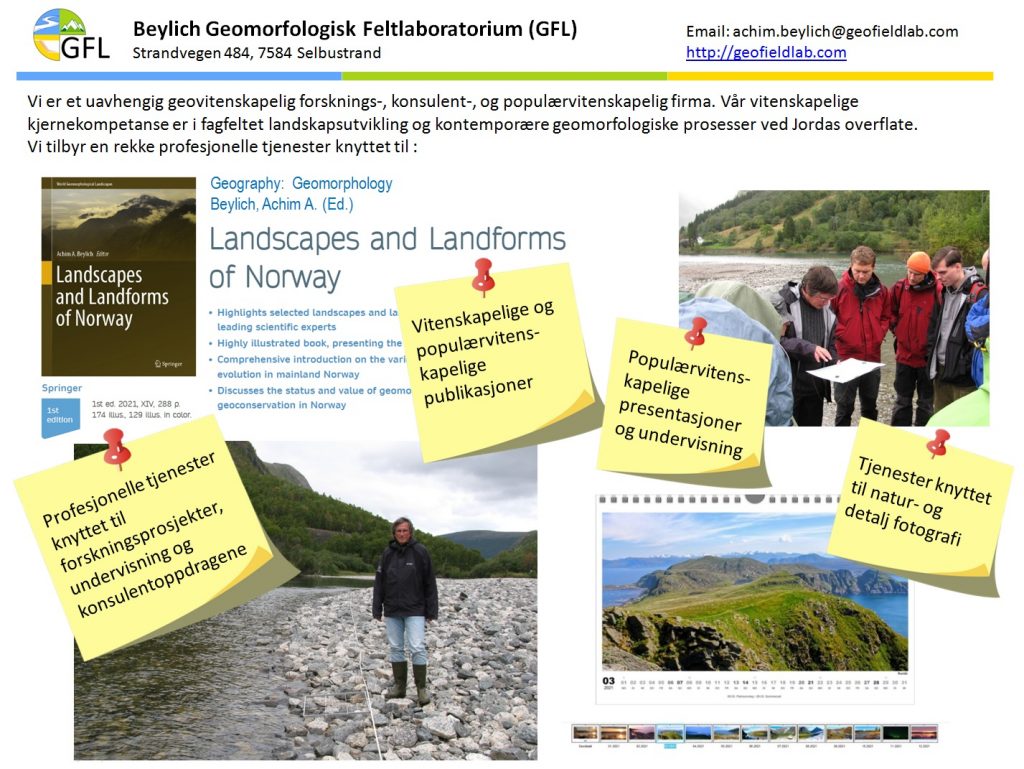 Location map of our offices and field sites